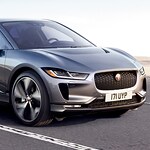 The all-new Jaguar I-Pace is a ground-breaking electric vehicle that offers an exhilarating driving experience and stunning good looks. With its sleek, eye-catching design and innovative technology, the I-Pace is sure to turn heads wherever it goes. Read on to find out more about its exterior features!
The I-Pace has a very unique look that is sure to turn heads. Its low, sleek profile and muscular stance give it a sporty look, while its large wheels and aggressive front end add an element of sophistication. It also features a number of innovative design elements, such as its full-width LED headlight units and distinctive daytime running lights.
When it comes to technology, the I-Pace is packed full of the latest and greatest. Its advanced all-wheel drive system provides outstanding traction and handling, while its state-of-the-art battery pack offers an impressive range of up to 470km. It also features a number of driver assists, such as adaptive cruise control and lane keeping assist, which make it even easier to get around town.